We were all bone tired by day 3 of our vacation. Magic Kingdom wiped us out, but it was up and at 'em early again the next morning for Animal Kingdom! Luckily we got to use the "Extra Magic Hours" because we stayed at a Disney Resort! Animal Kingdom had the extra hour in the morning, so we made sure were one of the first people there!
We made sure we had our PhotoPass card with us because it is also accepted at AK, and all of the other parks! Then we headed straight to the FastPass site and got our passes for the day. We then headed to Kilimanjaro Safaris!
Walking off of the safari, be sure to walk the trails to catch some other beautiful animals!

We used one of our FastPass options for the kids to meet Mickey & Minnie!
Liam got to meet Baloo & Louie when they walked in front of us along our trek to eat lunch. Animal Kingdom, like all of the other parks, have quite a few wonderful options for food; quick and table service! My advice is spread it out and try a little bit of everything at each of the areas of the park! You will find that you enjoy many of the cultural options!
Liam had a blast playing the water fountains and spouts!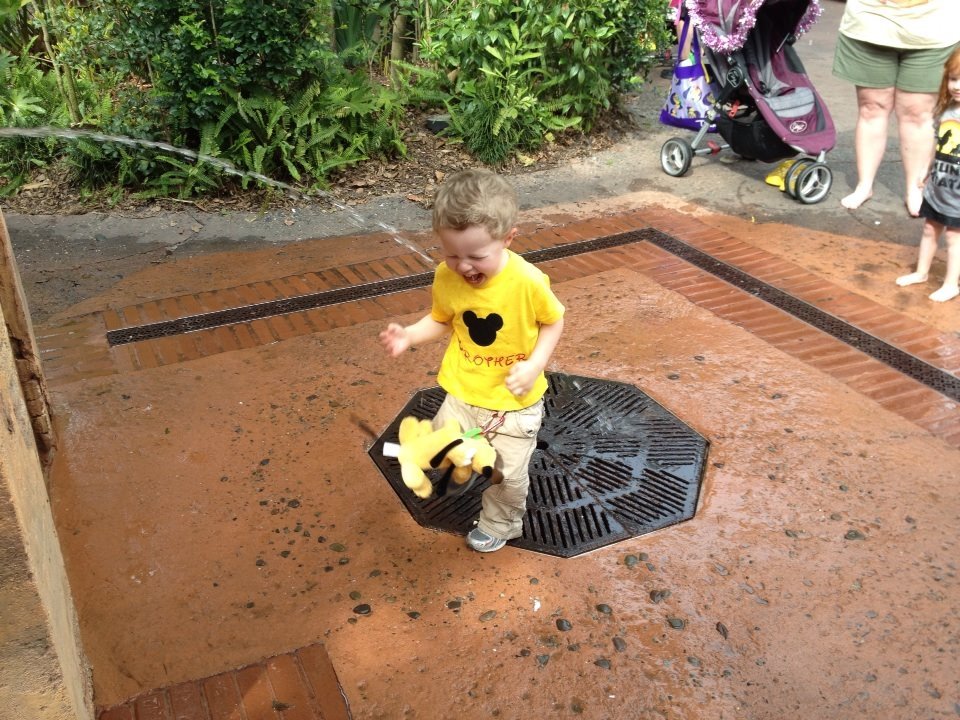 Wes took Liam to play in the Boneyard while Granddaddy, Grandma, Holdyn, and I rested! (There are a lot of places to cool off in the shade around Animal Kingdom!)

We also rode "Dinosaur Dumbo," or at least that's what Liam called it!
(Triceratops Spin.) We walked around the Maharajah Trail and saw these beautiful tigers!

One last time on the Safaris! It was a long ride because the baby giraffe decided to block our path. The driver radioed for backup, so a truck brought some food. Baby giraffe didn't care, but the food did attract some cows and the other giraffes! We got beautiful pictures! After about ten minutes, he finally made his way on and we got back to the path!
One last photo op with Grandma and Granddaddy!

We bought Holdyn some more earrings since she somehow lost the pair we bought at MK and got Wes and the kids their 'First Visit' buttons!
We boarded the bus back to the resort. We ate dinner at a restaurant there and then let the kids play on the awesome playground there. Seriously, our resort was amazing. We could have made an entire day of fun there! (If you have any questions or are curious about the Disney resorts, drop me a line!)